Vernon
the VMS mascott
---
Version 2.1a - 28-OCT-2005
---
Using the shark
Vernon is available in various vector formats, as well as rasterized images to make it easy to produce artwork clearly identifying VMS.

Vernon was found in a Corel clipart library as a PICT file and was rebuilt with Freehand, with its bodyparts separated into many layers and many lines smoothed, and objects greatly simplified. Vernon got new teeth and more anatomically correct fins. Lines were given greater weight so that when rasterized to smaller sizes, Vernon will still have a clear shape.

When generating smaller images from the .EPS. turn off anti aliasing, and then increase contrast of the resulting image to make it clearer. Some of the skin tints may disapear as a result though.
---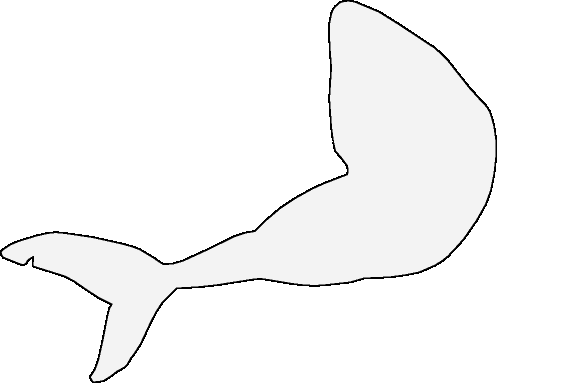 ---
VERNON Vector sources


ZIP file of VERNON in various vector formats. Version 2.1

shark_v21.fh8

Adobe ! Freehand 8 document with the shark broken in into multiple layers

shark_v21.ai

Adobe Illustrator 7.* version of the above. (exported from Freehand)

shark_1teeth.eps

Encapsulated Postscript format with the full teeth (both rows)

shark_2teeth.eps

Encapsulated Postscript format with only front row of teeth visible. This is more suitable if you will rasterize to smaller sizes.

shark_outline.eps

An outline of the body of Vernon. Useful when creating 3d objects onto which Vernon is to be projected/texture-mapped.




CHANGES SINCE V2.0

Vernon's left (port side) fin was reworked to put the outline on top of the fills to ensure it has priority when rasterised to smaller sizes where the darker fill would noticeably reduce thickness of outline in the previous version.
As the request of Ken Farmer, the eye was made a bit smaller.
The decorations inside the tail were streamlined, smooted and darkened.
The shark_*teeth.eps files were edited to greatly simplify the postscript code and remove redundant/unused code, especially references to fonts and macintosh specific encodings.The simplified EPS files were succesfully tested on VAX-VMS with CDA viewer as well as DECWRITE applications. In other words, the generated postscript is Postscript Level 1 compliant.
On October 28, the shark_1teeth and shark2_teeth were modified to add a few comments to increase compliance with EPS file formats. No changes to the artwork were made.

DOWNLOAD: [ shark021.zip]


---
Ready to use images
Use your browser's "save image as" function to get your copy of images







Transparent GIF. Aliased text. Not suitable for dark backgrounds.

"Powered By" is Futura Demi Oblique 20pt. "VMS" is Mistral 30pt bold. Shark rasterised to 60 points, edited for contrast and final image scaled down to 40 point height.

VMS is 100*40, OpenVMS is 127*40 pixels
| | |
| --- | --- |
| | Transparent GIF. Aliased text. 117*40 pixels. UNDER DEVELOPMENT |
Vernon. Transparent gif, Height=192, width=284. Non aliased, so it is suitable for any type of background.

---

Shark_1704_1152.tiff
Vernon in large format TIFF file with alpha channel (mask). width=1704 height=1152. Non Aliased.
| | |
| --- | --- |
| | Powered By VMS tablet standing on a table. Transparent GIF image, width=320 height=200 |
---
Other sources of VMS artwork

---
| VMS Home Page | Home Page | Contact |